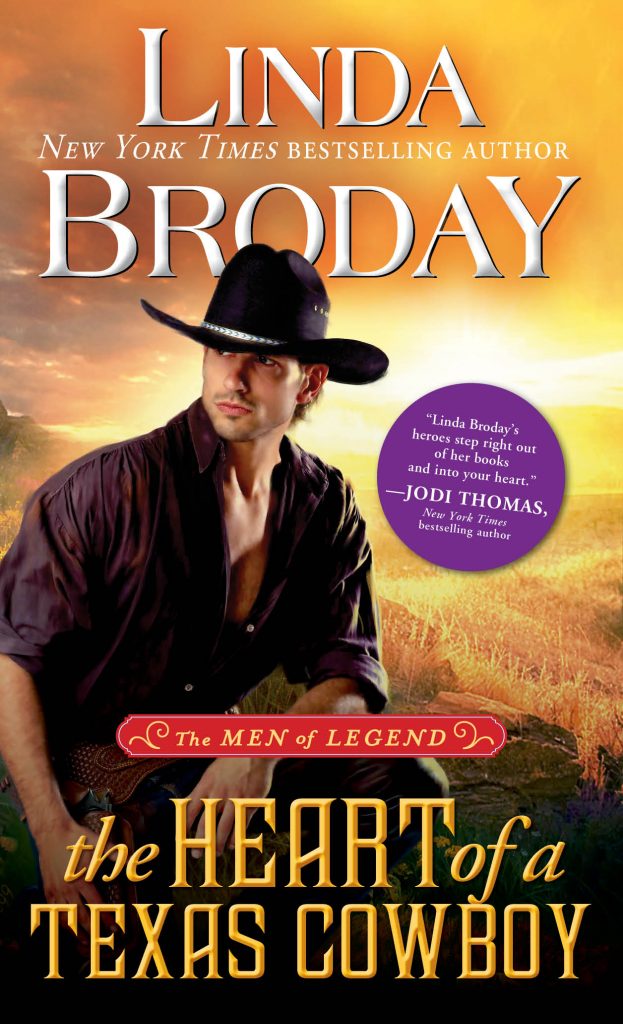 THE HEART OF A TEXAS COWBOY
Book 2 Men of Legend
Sourcebooks Publishing – May 2017
ISBN: 978-1492630203
Three Brothers. One Oath.
No Compromises.
The MEN of LEGEND
One bullet is all it takes to shatter Houston Legend's world. He swore he'd never love again, but with the future of the Lone Star Ranch on the line, he finds himself at the altar promising to love and cherish a woman he's never met—a woman whose vulnerable beauty touches his heart.
All Lara Boone wants is a name for her baby. She never expected to fall in love with her own husband—or any man—after the heartache she's endured. Yet when her troubled past catches up with them, Houston will move heaven and earth to protect his bride…and discover depths to a marriage of convenience neither realized could be theirs to claim.
I'm proud to say this book was a finalist in the Colorado Romance Writers group.
B&N  | iBooks  |  KOBO  |  IndieBound  |  AMAZON
EXCERPT
Houston rubbed his bleary eyes and glanced up as his father entered. His pa didn't appear in any better shape than Houston. His pale green eyes were bloodshot and his clothes had been slept in, if he slept at all. Stoker Legend gave a deep sigh and dropped into the leather chair opposite the desk.
The ladies around the ranch would say Stoker Legend was a handsome man, for fifty-eight years old. Only a smattering of silver streaked his dark hair and he didn't have an ounce of fat on his tall frame. Stoker was a man who'd lived hard and carved out the huge Lone Star spread from nothing. He'd cut his teeth on men who'd tried to take his land, and had made plenty of enemies along the way. Not that he gave a damn about any of that. But today, he looked exhausted.
Stoker sighed again.
"Something bothering you, Pa?"
"Had poker games all weekend, but last night's lasted until dawn."
Houston chuckled. "Pa, everyone in the whole blame state knows about your poker games. They're legendary. That must be why you look like you've been dragged behind a horse. I take it there was a good bit of drinking involved?"
"Can't play cards without it, son. The two just go together." Stoker ran a finger along the edge of the desk. "I won a few. Lost a few. There's something I've got to tell you, son."
"Start at the beginning and let it fly," Houston advised. "That's what you'd tell me."
Stoker rose and stared out the window. "It's about… Perhaps I can shed some light on the problem with those books you've been studying."
Houston's stomach clenched. This sounded worse than losing a couple of hands of poker with friends. "The ranch is in a pretty tight bind right now, but tell me how much you lost and we'll cover it. I take it that's where the huge deficit in the books went."
They couldn't take many more losses like that. How many times was Stoker going to wager his life's work away?
"It is." Stoker gave a curt nod. "But that's only a small corner of the problem. The truth is… The ranch has been cut in half. Yours, Sam's and Luke's—your legacies have shrunk considerably."
Everything in Houston stilled. His heart, his breathing, his ability to swallow. He couldn't stop the anger from flaring. "What do you mean cut in half? What have you done, Pa?"
"It's gone."
"What's gone? Are you talking about land, money, or what?" Houston slammed the receipts register closed. He dreaded telling his brothers their father had finally lost it all.
"You know how I have a standing poker game every Saturday night."
For Stoker to repeat himself meant he couldn't even bear to say the words.
"Quit stalling, Pa. Yes, for as long as I can recall you, Max Golden and Kern Smith have cut loose on Saturday nights. You lost half the ranch to them?" That might not be so bad. They were long-time friends. Maybe Houston could persuade them to let the wager go for a drunken mistake and they'd all have a good laugh. After all, they were reasonable men. Kern's wife once came to ask that Stoker return money they needed for ranch expenses.
"Not exactly." Stoker looked away. "We had another rancher join us. New to the area. Name's Till Boone. He bought the spread adjoining ours to the south that's lain idle for thirty years. Till now owns 240,000 acres of our ranch that adjoins his."
"Damn it, Pa! That's where all the grass is. What were you thinking?"
Stoker plowed his fingers through his thick hair. "I had a little too much bourbon."
"Pa, you promised to slow down."
His father whirled and leaned over the desk, pointing his finger. "I don't need a lecture from you. I will when you will. The main thing is that we can fix this."
"How? I've never known you not to honor all your debts, even the ones made when you were soused. I can't believe this." He didn't see a way in hell now of keeping the ranch together. None whatsoever. What was he going to tell Sam? Or Luke, who'd just started to feel a part of the family?
Fire flashed from Stoker's bloodshot eyes. "There's only one way and it'll be up to you. I need you in on this, Houston."
Fury crawled up Houston's spine. "So I'm supposed to fix the mess you've made?"
"You're the only one who can, son."
"Stop talking in riddles, Pa, and get on with it." Houston could barely contain his fury. He didn't like having hard feelings for his father, but for Stoker to expect him to fix a stupid blunder like this stretched their relationship to the breaking point.
"Till Boone's daughter needs a husband. Boone said that if you'll marry his Lara, he'll forgive my foolish wager. And we can keep the land."
"What! This is your idea of fixing things?" Houston exploded in a single word. "NO!" He leaped to his feet so fast it sent his chair toppling. "You're crazy to even think I'd consider this."
Houston couldn't marry again. He hadn't slept a full night since his first disastrous wedding and only whiskey could silence his demons. He carried festering wounds that hadn't even begun to scab over, and to ask him to marry another would throw him right back into that pit with no way to crawl out again. He'd known Becky since they were children and he hadn't been able to trust her. How could he be asked to bind himself to a stranger?
"Boone gave us twenty-four hours to think about it." Stoker crossed the space to him and laid a hand on his shoulder. "I know it's asking a lot."
"Hell yeah, it's asking a lot. How about asking me to give up the rest of my life? Asking me to live with a stranger, sleep in the same bed, pretend to care for someone sitting across from me at the supper table? The answer is no. And all that aside, I leave on the cattle drive in three weeks. I don't have time to deal with this." Houston shrugged from under Stoker's hand. He strode for the door, putting some distance between them before he hauled off and hit his father.
"There's more." Stoker's words stopped him in his tracks.
With narrowed eyes, Houston whirled. "How much worse can it be? What else is Boone wanting? The marriage license signed in blood? Tacking my hide to the barn door? What?"
"His daughter, Lara, has a child. A little girl. In return for giving us back the land, Boone is asking you to give her child a name and raise the girl as your daughter."