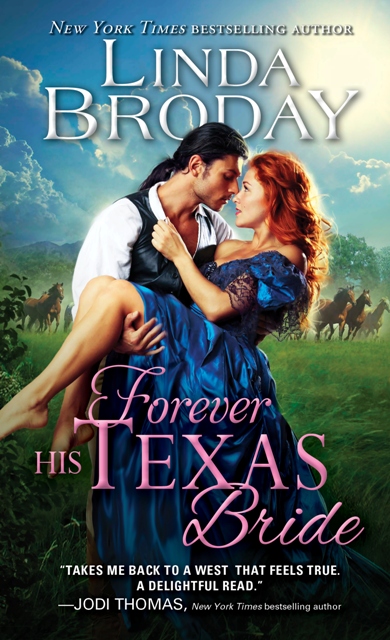 FOREVER HIS TEXAS BRIDE
Book 3 Bachelors of Battle Creek
Sourcebooks Publishing – December 2015
ISBN: 978-1492602873
GRAND PRIZE WINNER! Judge a Book By Its Cover sponsored by the Houston Bay Area RWA chapter.
"There's this thing between us that refuses to die. I'd like nothing better than to be able to…" His words faded. He'd give anything to change people's views about his race…to be able to make her his wife.
But the world wasn't that simple. Not for people like them.
She was a pickpocket and he a half-breed.
All his life, Brett Liberty has straddled two worlds: white and Iroquois. The only place he's truly at peace is with his wild mustangs. Arrested for the color of his skin, he discovers Rayna Harper in the cell next to him. Rough and tumble Rayna has known little kindness, but Brett sees the depth of her heart hidden beneath layers of hurt and fear, and he refuses to leave without her.
Something about the damaged, flame-haired beauty calls to him. Yet even as the two outcasts are drawn together, terrible danger at the hands men eaten with hate threatens to tear them apart. Brett knows he should let her go, but he's taken with the woman who looks at him as if he were just any other man…and melts in his arms as if the brush of his lips is enough to chase away her demons…
AMAZON  | B&N   |   iBOOKS  |  KOBO  |  IndieBound
EXCERPT:
"I had some dreams once—and hope." She hated the bitterness that crept into her voice. "But I learned that hoping and dreaming were for other folks, not me."
Brett took her hand. "Those aren't allotted only to certain people. Anyone can have them."
"Not me. My heart can't take any more blows."
"Courage is getting back up once we've been knocked down. Shame is in not trying. I'll help you get back up."
"Why?"
"Because I want to. I see a spark inside you just waiting to flare brightly."
"My father hammered into me that people like us don't get to be normal…or liked. We're outcasts. We stay with our own kind. I made a mistake in forgetting that."
"As Cooper would say, that's hogwash. You're just as normal as anyone. Stop limiting yourself."
Rayna inhaled the fragrant breeze, wishing she didn't have to keep hobbling the yearning welling up inside at times so strong she couldn't breathe. "I have to. It's a lot less painful. If you don't pin your hopes on things, your heart doesn't get broken as often. Our fight is my fault. I have this problem of always thinking things mean more than they do. It's just that I wanted what we had so badly to be true that I got lost in pretending."
He hesitated only a moment before putting his arm around her shoulders. "If I was able to take a wife for real, I'd want it to be you. But I'll never marry anyone. I'm a color that no one appears to have a particular fondness for."
"It doesn't make any difference to me. I see your heart, not your skin."
"Thank you, but it does matter a great deal to some."
Rayna rested her head on his shoulder. "Not to the people of Battle Creek. Mabel told me that everyone loves and accepts you."
"This town is only one place in thousands, and the resentment others harbor outside of here would fall to you also. I refuse to let that happen. No one will hate you because of me."
"It's not because I'm no lady?"
"No. I swear it."
"Do you think all this hating will ever change?"
"I hope so."
Relief flooded Rayna. "Then I will wait for you."
"I can't let you do that."
She lifted her head from his shoulder and sat up straighter. "I'm volunteering. I will wait however long it takes."
"Change may not happen in this lifetime," he warned.
"Then we'll try to hurry it along."
"Dear sweet Rayna, I wish others could see things through your eyes. So you'll let me try to help you?"
"I suppose." Rayna picked at a loose thread of her patched dress. "I'll need something to do while I wait for the world to get some sense."
"In the meantime, I can't be anything but a friend.""I'm glad. I need a friend."
"Let's get you back to Mabel's." Brett rose and pulled her to her feet. She placed her hand in the crook of his elbow. "I have to say that you have an awfully good pitching arm. Maybe I can find you something that requires throwing things. What else are you skilled at?"
A layer of sadness and misery lay beneath Rayna's laugh. She didn't want to discuss the only two things she was good at.The bottom of her skirt swished against Brett's moccasins. She cast him a sideways glance as she changed the subject. "What did the doctor say about Adam?"
"Only a sprain. The boy's lucky. I'll spend tonight in town. When I head out to the Wild Horse, I'm going to take him with me. I have a feeling the best thing is distance between him and his mother. Also, hard work. In my experience, that seems to be an excellent attitude adjustor."
"Seems to." They walked in silence for a minute. "Brett, I'm sorry for getting angry. Thank you for coming after me."
"You're welcome."
With her arm tucked in the curve of Brett's, Rayna's heart settled. She swallowed the last of her resistance and bitter disappointment.As they passed under the shielding overhang of a big evergreen tree away from the glare of the saloon lights, she turned to stare into the dark shadows of his face. "Could I have something to remember the time when someone almost loved me? One final kiss? After this moment, we'll be nothing but friends."
"I don't think that's wise."
She sensed Brett's yearning as his hand rose to touch her, only to let it fall.
Powerful need for one last feel of his fingers on her skin gave her the courage to beg. "One light brush of the lips between friends here in the darkness. It won't mean anything."
"Rayna…" The word came out hoarse and wounded.
Tingles raced up her spine as he gently traced the curve of her lips as though he, too, was filing a memory away. She lowered her lids in an effort to soak up the sensations. Her breath hitched when he lowered his sensuous mouth to hers.
Hunger…
Sweet ache…
Torment…
Desire blazed with the heat of a raging prairie fire.
This first kiss without steel bars between them, was full of raw power, danger and beauty.
Brett's hands plunged into her hated curls, holding her just like she dreamed. This man, hunted and despised, seemed to pour all the secrets of his soul into this kiss. With a low moan, she slid her hand around his neck, drawing him closer.Delicious agony arced out like the branches of the old tree they were under, reaching, straining for more of the sweetness.
The jolt of his thigh brushed her hip when she leaned into him. She knew she overstepped boundaries he'd set, but she couldn't stop herself. Her need to store up memories for the lonely times ahead was too great.
When he ended the kiss, she felt all quivery inside. Flutters in her stomach reminded her of butterfly wings and Rayna knew from now on she'd never be the same.
She also knew friends probably didn't kiss like this.
Despite Brett's vow that they couldn't be anything but dear acquaintances, something appeared to have gotten lost…again. Maybe it would always be this way whenever he was near.
Touching Brett's face, she met his dark stare. "I think my brother was right."
"What about?"
"Kisses do have magic."