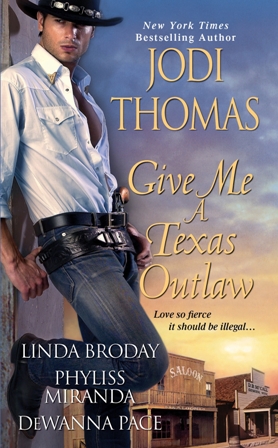 GIVE ME A TEXAS OUTLAW
ISBN-10:978-1-4201-1173-6
Publisher:Zebra/Kensington Publishing (July 2011)
Love so fierce it should be illegal…
Fearless and irresistible, outlaws are the original bad boys. Now New York Times bestselling author Jodi Thomas, Linda Broday, Phyliss Miranda, and DeWanna Pace offer up four sexy and romantic stories for women who love men who know how to pack heat…
The Outlaw by Jodi Thomas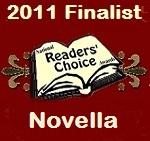 Trouble in Petticoats by Linda Broday
Texas Flame by Phyliss Miranda
Most Wanted by DeWanna Pace
My story, TROUBLE IN PETTICOATS: Larissa Patrick's baby sister has been kidnapped and only one man can save her: gunfighter Johnny Diamond. He's more than up for the task—but getting the girl and Larissa safely home without losing his heart will take the discipline of a saint. And Johnny's no saint…
Buy Now:  Amazon    Barnes & Noble    Kensington
Reviews:
"I am amazed at how well each of these authors not only tells their own story about a Texan outlaw, but how well they blend these stories into a collective whole. These four stories don't read like separate entities but as though they belong together. They each capture the spirit of the West at a time when life was hard and heroes were welcome. Each story depicts an outlaw, but an outlaw that we want to get to know. A man or woman forced by circumstances to become a fugitive and yet, able to retain their internal sense of justice. The heart and drive of the men and women who went West to seek their fortunes as well as the dangers they faced are all part of these stories. Each story is one to be savored…."—www.historicalromancewriters.com
Excerpt from "Trouble in Petticoats"
The strange horse hadn't moved but the rider had made a bed on the ground on a bedroll.
So much for thinking it might be one of the kidnappers. They wouldn't be that careless.
Guided by the moon's rays, he snuck up to the sleeping form. Placing his Colt to the side of the figure's head, he ordered, "Stand up nice and easy and you won't get hurt."
A feminine scream rent the air and Johnny's conscience pricked. This was no threat, it was a frustrating setback.
Larissa Patrick leaped to her feet, with her fists balled. "Diamond, what on earth are you trying to do, give me a heart attack? I thought you were one of the kidnappers."
"It'd serve you right. You aren't supposed to be here." He holstered his Colt. "I told you to go home. But here you are continuing to dog my trail every last step of the way. What do you have to say for yourself?"
"She's my sister and I'm going." Larissa's chin jutted defiantly.
"So you flat out lied."
"I told you what you wanted to hear. It's a free country, isn't it?"
"Oh, lady, you have no idea how much trouble waits for you."