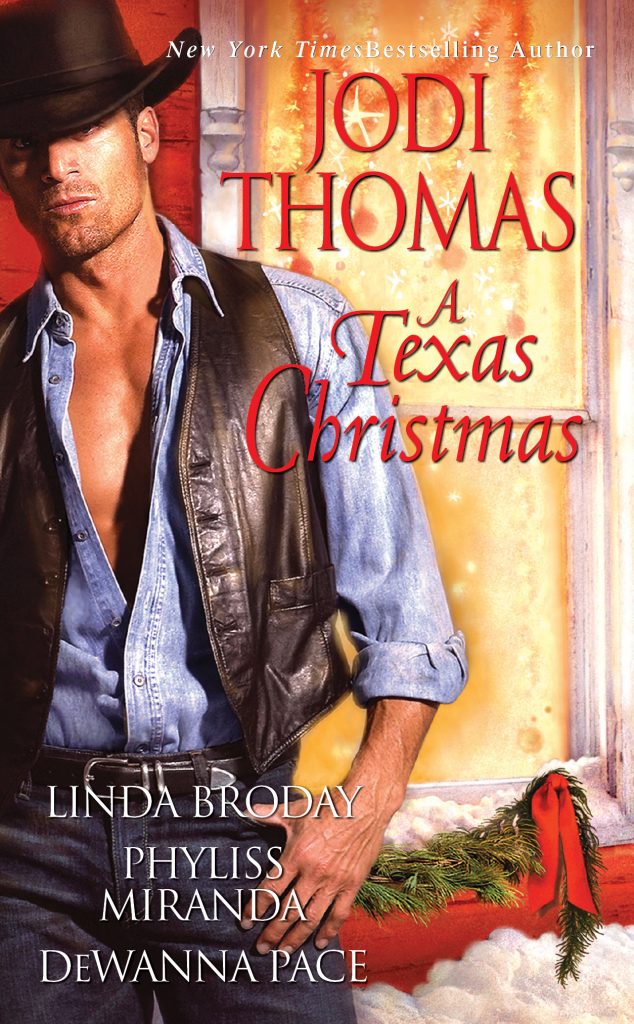 A TEXAS CHRISTMAS
ISBN-10:978-1-4201-1966-4
Publisher:Zebra/Kensington Publishing (Oct. 2011)
* New York Times Bestseller *
Scroll down for excerpt from "The Christmas Bell"
In the Texas Panhandle, the winters are long, the storms fierce—and the Yuletide nights are sizzling. New York Times bestselling author Jodi Thomas along with Linda Broday, Phyliss Miranda, and DeWanna Pace, bring you one tempting holiday delight….
One Wish: A Christmas Story by Jodi Thomas
Naughty or Nice by DeWanna Pace
The Christmas Bell by Linda Broday
Away in a Manger by Phyliss Miranda
My story, THE CHRISTMAS BELL: A brave heiress, Tess Whitgrove, can't believe a rugged angel is riding out of the night to save her and her fellow passengers who are stuck on a train in a blizzard–until she gets him under the mistletoe. Rancher Sloan Sullivan sees the banker's daughter in a whole new light as together they fight to escape from the blizzard and give four orphans a Christmas to remember.
Buy Now:   Amazon     Barnes & Noble     Kensington Pub 
Reviews:
"Cleverly linked by a devastating 1887 Texas blizzard and the panhandle town of Kasota Springs, the stories in this engaging anthology bring home the meaning of Christmas in diverse and touching ways….Wintry, warm, and infinitely readable, this Western anthology of related stories is unusually satisfying—a winner for readers who like collections filled with Old West flavor." —Library Journal
"Each story, individual in their tale, centers on the most wonderful time of the year, Christmastime, during the worst blizzard of the year, and the wonderful residents of Kasota Springs. This most enjoyable read is full of love and caring and a most difficult book to put aside until the last page has been turned. The warm feeling surround the holiday is certainly portrayed in these great tales from these talented authors." —Fresh Fiction
"The latest western romance anthology by this quartet is a terrific somewhat interwoven but mostly separate tales of couples trapped by a snowstorm falling miraculously in love." —Harriet Klausner
Excerpt from "The Christmas Bell"
Tess steeled herself, certain Sloan Sullivan meant to ignore her. After several long heartbeats, he reached up and touched his hat brim with two fingers. "Miss Whitgrove."
"Mr. Sullivan," she returned. "Welcome aboard."
The engineer pumped Sloan's hand. "Roe Rollins here. We're mighty glad to see help arrive. Yessiree."
"I brought a load of blankets, some food, and plenty of firewood for the stove. Thought you might use it. No telling how long you'll be snowbound. This weather is a woolly bear."
His deep baritone stirred the air and created a path of tingles up her spine. His ebony hair was so dark it had a blue cast to it, which only made his gray eyes more startling and clear. But it was the cleft in his chin and his full mouth that drew her attention. She'd lain awake many nights, fantasizing what it would be like to kiss him.
That was before he'd treated her like a case of poison ivy.
Now she barely gave him another thought. Liar, her conscience berated. She tamped it down and sneaked a look from the corner of her eye.
Rollins finally turned Sloan's hand loose. "I'll get some men to help unload your sled. I'm sure you'd like to get back home while you still can."
Tess helplessly watched the old engineer disappear down the aisle. She didn't relish being alone with the antisocial rancher. Given his preference for doling out his words more frugally than a widow woman pinching pennies, she didn't know what exactly to say to him.
The silence grew uncomfortable. She finally managed to speak, the words coming no louder than a murmur. "Thank you for sharing what you have with us. We're badly in need. "