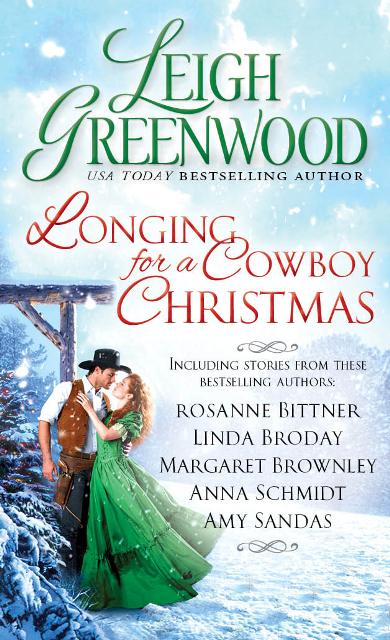 LONGING FOR A COWBOY CHRISTMAS
Sourcebooks Publishing – Sept. 24, 2019
ISBN: 978-1492683834
Find your very own cowboy to keep warm these long, wintry nights as you cozy up with six sweeping, epic tales of heroism, passion, family and celebration from bestselling authors Leigh Greenwood, Rosanne Bittner, Linda Broday, Margaret Brownley, Anna Schmidt, and Amy Sandas.
Fall in Love with Christmas
Whether it's a widower finding an unexpected new start, a former outlaw and his new wife welcoming their very own Christmas miracle, a long-lost lover returning just in time for a special holiday celebration, a second chance at love between two warring hearts given peace at last, an unlikely pair working together to bring joy to a small Texas town, or a cowboy and his dark-eyed beauty snowed in one unforgettable wintry eve…every Christmas with a cowboy is filled with light, laughter, and a forever kind of love.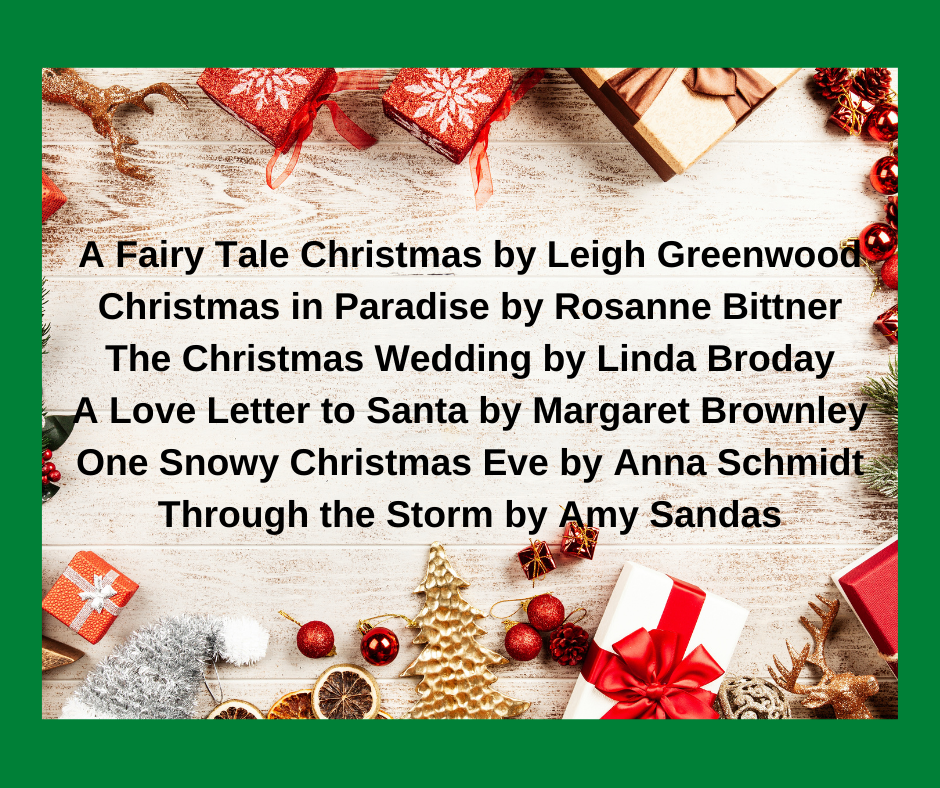 EXCERPT – The Christmas Wedding
Four-year-old Jenny came running, her sobs cutting into Rebel Avery. "What's wrong, honey?"
"My dolly's broken. Everything's broken." She thrust her doll's arm at Rebel and ran crying to her bed.
Something had to be done to lift their spirits. To lose Travis Lassiter, the man she loved, so abruptly with scarcely a word since had plunged Rebel into heartbreak and despair. She didn't know if he was alive or dead. The incident had left everyone to wonder who would be next. A posse of lawmen could swoop into the outlaw town at any time and haul them out. Christmas should be full of hope and optimism, not this cloud of fear.
The memories of past Christmases gave Rebel an idea. She pulled her coat back around herself and retied her woolen scarf. "I won't be long. Stay inside and, Ely, watch your sister."
Rebel fought the wind all the way to the Bowdre house.
Nora opened the door, wiping her hands on her apron. "Rebel, come inside before you freeze to death."
"Thank you. This storm's something. It broke one of my windows." Rebel untied her scarf. "Clay nailed a piece of wood over it. But everything is wrong."
"What do you mean—everything?" Nora led her into the small parlor.
"Ely has all this anger inside. He fought with Billy Truman again today. Came home with a bloody nose." Rebel sighed and took a seat. "And Jenny's doll's arm came off, and she sobbed that everything was broken. It does seem to be the case. The window was just one. Then the pan of cookies I was baking ended up on the floor. And I haven't heard a word from Travis and fear he might be dead." A sob strangled in her throat.
"Some days are like that." The teakettle whistled, and Nora rose. "How about a nice cup of tea? That will make everything better."
"That sounds lovely."
Nora left the room and soon returned with a tray laden with tea, cups, and little cookies. They sat with steaming cups in front of the fire while baby Willow, a child the couple had found next to her dead mother and taken in, crawled around them. Rebel liked the woman who sat across from her. The curvy, blond-haired woman had the kind of strength Rebel wished for.
Rebel eyed the cookies. "Would you mind if I take one of these to the children?"
"Not at all. Take three or four apiece," Nora urged. "I'll wrap them up when we're done."
"Thanks." Rebel took a sip of tea. "I have an idea and want to see what you think of it."
"If it's a way to dispel this gloom and make everyone get along, I'm all for it."
"I want to have an Advent calendar—only the whole town will be the calendar."
"Oh, yes! I always loved the cheer Advent added to my holidays when I was a child." Nora's brown eyes twinkled. "Tell me more."
"We'll have to somehow fashion a large calendar with a little door on each day." Rebel took a sip of tea, her mind whirling.
Nora bit into a cookie. "We'll make it out of sturdy wood so the wind won't blow it over."
Baby Willow tugged on Rebel's skirt and she picked her up, inhaling the sweet scent. "Inside each little door will be a name for the person who has treats that day and the children will go to that house."
"Yes! Yes! And on each Sunday leading up to Christmas, we'll light one of the four Advent candles."
"Great idea. I wonder if Skeet Malloy will make us a holder. That blacksmith can make anything. When this storm passes, I'll ask him. We can get candles from the mercantile." Rebel carefully untangled black strands of her hair from Willow's little hand. "We'll get the children involved. I know, maybe we'll have them draw for a chance to be the one who lights the candle in church each Sunday."
"If they fight or misbehave, they'll have their name removed." Nora reached for the teapot. "More, Rebel?"
Rebel moved her cup closer. "Unless I miss my guess, this will teach them to get along better, and I think it'll fill the town with the Christmas spirit." Her hand trembled when she lifted her tea. "I just wish I knew if Travis is alive."