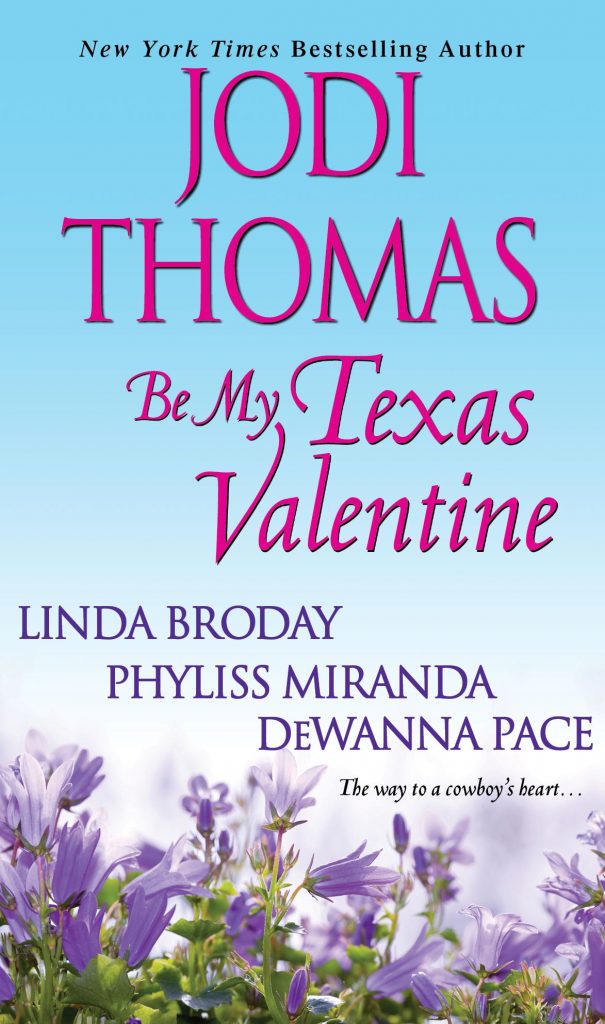 BE MY TEXAS VALENTINE
ISBN-10:978-1-4201-1967-1
Publisher:Zebra/Kensington Publishing (Jan. 2012)
In Texas, Valentine's Day is for restless hearts, brave second chances, and passions rekindled. New York Times bestselling author Jodi Thomas, Linda Broday, Phyliss Miranda, and DeWanna Pace tempt you with four delicious treats…Out on these rugged plains, love never comes easy. And four daring ladies will do whatever it takes to capture the hearts of four irresistible sweet-talking Texans.
Buy Now:    Amazon     B&N     Kensington
The Valentine's Curse by Jodi Thomas
Cupid's Arrow by Linda Broday
Loving Miss Laurel by Phyliss Miranda
Sweet Talk by DeWanna Pace
Excerpt from "Cupid's Arrow"
Rue Ann Spencer stepped from Mrs. Fitzhugh's Dress Shop where she was being fitted for her wedding gown into the blinding afternoon sunlight. She quickly raised her hand to shield her eyes but it wasn't soon enough to keep her from plowing into the solid wall of a man's body. His quick grasp kept her on her feet.
"Pardon me. I didn't see…." She stared up into the liquid brown eyes of none other than Logan Cutter. Her words trailed as she suddenly lost the ability to form coherent thought. Her blood chilled. Why did she have to run into the one person who still had the ability to drive a knife straight into her heart?
That's why she'd stayed far away from Texas and Shiloh for three years. She'd never forgive him for what he'd done.
"I heard you were back in town, Rue Ann." Logan's deep growl indicated he wasn't thrilled with the encounter either. "And I also hear congratulations are in order on your upcoming nuptials."
"Thank you, Mr. Cutter," she replied stiffly. "Now if you'll excuse me, I have a million things to do to prepare for my wedding. Valentine's Day will be here—"
"In exactly two weeks and five days," he finished for her.
Shocked that he knew to the day how long before she'd become someone else's wife, she gathered her shredded composure and turned in the direction of Whipple's Dry Goods. Refusing to give Cutter the satisfaction of knowing how deeply he'd affected her, she moved on, keeping her gaze glued to the sidewalk, never once glancing back.
Truth of the matter Logan Cutter had jarred her. She had tried to prepare herself for the inevitable crossing of their paths, but seeing him today had been a shock.
Trembling, Rue Ann opened the door of the dry goods store and hurried inside.