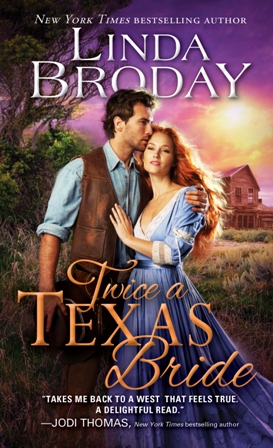 TWICE A TEXAS BRIDE
Book 2 Bachelors of Battle Creek
Sourcebooks Publishing – May 5, 2015
ISBN-13: 978-1492602842
Scars of the past run deep inside former saloon owner Rand Sinclair, leaving jagged pain and two certainties. He'll never fall in love again. Never marry.
He finally has the ranch and land he's dreamed of owning and that's enough. But when he finds a woman and little boy hiding in one of his outbuildings in the bitter cold, he can't turn his back. He offers her a safe haven and the warmth of his fire.
Callie Quinn is on the run from a killer outlaw who has vowed to see her dead and take the boy. Slowly, Rand uncovers her secrets and realizes the only way to keep her safe is to push all his chips to the center of the table.
He risks everything…his name…and his heart…for the woman who's awakened a fierce hunger for love.
Locked in a desperate battle to rid themselves of the outlaw's special brand of terror, Rand reaches deep inside for every weapon in his arsenal.
Whoever wanted to harm her would have to go through him.
…And he'd go through hell for her.
AMAZON  | B&N  |  iBOOKS  |  KOBO  |  IndieBound
PRAISE
"With a touching and gentle, yet rugged and real story, Broday captures the West—and readers' hearts." 4 Stars Romantic Times Magazine
"Broday's novel tugs at readers' heartstrings while keeping them on the edge of their seats in suspense. Those who enjoy historical western romances by such authors as Kaki Warner and Maggie Osborne will also be captivated by this riveting tale of the Old West." Booklist Starred Review
"Broday is one of those rare authors who hold readers captive from cover to cover. She brings the Wild West to life for modern readers, without modernizing it. It's a fantastic balance. Plot twists upon plot twists abound in this one of a kind novel."  Pure Jonel
EXCERPT
"Oh for heaven's sake." She couldn't have moved if her life depended on it. That didn't matter though. Rand certainly seemed quite limber on his feet. And very eager to boot. "I really need to see about supper."
"It can wait," Rand persisted softly. "You brought this on yourself. If you back out now, you'll lose credibility with Toby. Do you want that?"
Callie's mouth dried. "No," she whispered.
One step and he stood nose to nose with her.
Good heavens. She struggled to draw air into her lungs. A niggling suspicion told her this would not be a mere brush of the lips this time. She realized a part of her would be incomplete if that's all she got.
Rand reached out. With agonizing slownesss, he took her face between his big hands then crushed his lips hungrily to hers. Sizzling spirals of heat rose and spread through her body, leaving a scorched path. She couldn't breathe and she didn't care. The yearning inside overpowered everything.
The knowledge that she needed Rand more than food or air or refuge swept over her.
Immediately, her stomach did that twirl and dip thing that had her clutching the front of his shirt to keep from falling.
Dear God, she'd never felt so alive, so wanted, so desired. Her pulse raced as the loud throbbing in her ears drowned out everything, including the voice of reason.
She forgot where they were and the fact that Toby looked on.
She forgot the danger.
She forgot everything in the strong need for this man that rolled over like a midnight tide crashing to the shore.
Her hand slid around his neck and into his silky brown hair. She couldn't deny this attraction between them. The power of it shook her to the depths of her being.