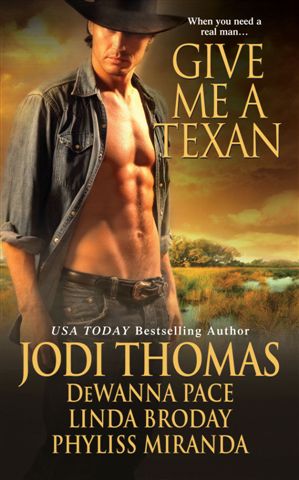 GIVE ME A TEXAN
ISBN-10: 142010103X
Publisher: Zebra/Kensington Publishing (Feb 2008)
 When you need a real man…Give Me A Texan!
Roots that go deep. Men who stand tall. And real women who have what it takes to love and be loved by them.
Jodi Thomas, New York Times and USA Today bestselling author, teams up with Linda Broday, Phyliss Miranda and DeWanna Pace to bring you four of the best Texas romances ever in this all-new anthology! (Formerly titled Amarillo By Morning)
Amarillo by Morning by Jodi Thomas – Hank Harris wasn't even looking for a woman when he ended up with a wife. Their hasty marriage is for appearances only: a capable, intelligent woman like Aggie is exactly who he needs as a business partner. But–speaking of appearances–if only she weren't so damn beautiful. And spirited. And in his bed…
The Love Letter by Linda Broday – Payton McCord thought he was one tough cowboy — until Amanda Lemmons made him mind his manners. But a woman of her caliber is worth the trouble she causes…
No Time For Love by Phyliss Miranda – Newspaperman Quinten Corbett wasn't expecting his new apprentice to be female. Boston-born Kaira Renaulde is far too refined for a rough-and-tumble frontier town—and far too pretty for his peace of mind…
A Shade of Sunrise by DeWanna Pace – Briar Duncan knows he needs someone to help him raise his headstrong little daughter. But Mina McCoy is more than he bargained for—much more! The woman has the face of an angel and a very definite mind of her own…
Buy Now:   Amazon     Barnes & Noble    Kensington
Reviews:
What Romantic Times says about Give Me a Texan:
"Four ladies who know what it means to be a Texan, create a quartet of memorable novellas that bring the great state straight into your heart. The three-dimensional characters and unforgettable heroes, combined with splendid stories, are unmatched for fans of the Old West." – 4 Stars – Romantic Times
Honorable Mention from voters for "Best Western 2008" —www.lovewesternromances.com
Excerpt from: "The Love Letter"
McCord untangled his long legs and sprang to his feet. "Let's hash this out over coffee? Or tea. I feel obliged to help a pretty damsel in distress."
"How can I refuse a . . . true gentleman?"
"You can't."
Amanda accepted his elbow. Heads turned when they entered the dining room and for once she couldn't tell if they stared at her, the mutton woman, or the devilishly handsome wrangler. He pulled out her chair and waited until she sat down before taking a seat.
Tiny details caught her notice – the quiver that rippled through muscles in his arm when she brushed it, the solid feel of his tall frame, and the genuine warmth enfolding her that chased away the ever present chill in her veins for a moment.
Hmmmmm . . . despite apprehension, she could do far worse than having refreshment with a cowboy. Not just any though. Payton seemed special. Besides, should he turn out to be the author of the love letters, and if he had written them for the purpose of making her a bigger laughingstock, her plot would succeed. Everyone would see him keeping company with a lowly sheepherder. Nothing else would ruin a staunch cattleman's reputation faster.
But if he had and the declaration of love was genuine?
Somehow her vision didn't seem as clear now.
Strange that he hadn't mentioned the love letters once or shown an inclination he knew her. She could've jumped to the wrong conclusion from the outset. Damaging someone like Payton seemed wrong, particularly if he penned the words from deep inside. It might do more than leave his reputation in shambles. Picking up pieces of a heart . . . that was something in which she was well versed. She steeled herself against the pain and clenched her jaw. Reality was a harsh taskmaster. Better she let the chips fall.
Payton McCord had to be the one. He was the best candidate out of the gathering in the lobby. Then there was the matter with the initials. Yes, McCord was the Lothario all right. And she had to protect herself. Time to get at the truth.
With the valise at her feet and napkin in her lap, she met Payton's reserved perusal and tilted forward. His gaze meandered to the rounded tops of her bosom where he lingered for a long second. His Adam's apple bobbed when he swallowed.
She let her fingertips rest on his gloved hand. "Mr. McCord, thank you so much for taking pity on me."
"Payton . . . I insist. I'm not one for formality." Lines around the corners of his mouth and an interesting cleft in his chin deepened with his grin.
No, he was more for trying to run her off her land and back to New Mexico. Memories of Santa Fe, distasteful and hideous, lodged in the hole in her chest.