Welcome to the Corral!
Where there's plenty of riding, roping and romancing. Writing western romance is kinda like throwing a rope around a cowboy and his lady, pulling it real tight and giving them lots of room to fall in love. But they're awful stubborn (you know how these cowboys are) and sometimes takes a bit of convincing. I'm up for it though. Hope you agree.
Come on in, pull up a chair and stay awhile. I'll pour you a cup of coffee. We'll talk about the three L's–Life, Love and Liberty. While you're here, check out my booklist and blog.
 ~~~ ~~~

FOREVER HIS TEXAS BRIDE * Coming December 1, 2015!

**BIG COVER REVEAL!! Tuesday, July 7!!**
The thrilling conclusion to my Bachelors of Battle Creek series! Brett Liberty finds forbidden love in the arms of a pickpocket….but can they overcome prejudice and fear that keeps them apart?
~~~~~~~~~~~~~~~~~~~~~~~~~~~~~~~~~~~~~~~~~~~~~~~~~~~~~~~~~~~
The Story Continues….
BOOK TWO of BACHELORS OF BATTLE CREEK!

TWICE A TEXAS BRIDE  (May 2015)

Scars of the past run deep inside former saloon owner Rand Sinclair, leaving jagged pain and two certainties. He'll never fall in love again. Never marry.
He finally has the ranch and land he's dreamed of owning and that's enough. But when he finds a woman and little boy hiding out in one of his outbuildings in the bitter cold, he can't turn his back. He offers her a safe haven and the warmth of his fire.
Slowly, Rand uncovers her secret fears and realizes the only way to keep her safe is to push all his chips to the center of the table. He risks everything…his name…and his heart…for the woman who's awakened a fierce hunger for love.
Click HERE for buy links, excerpt and more!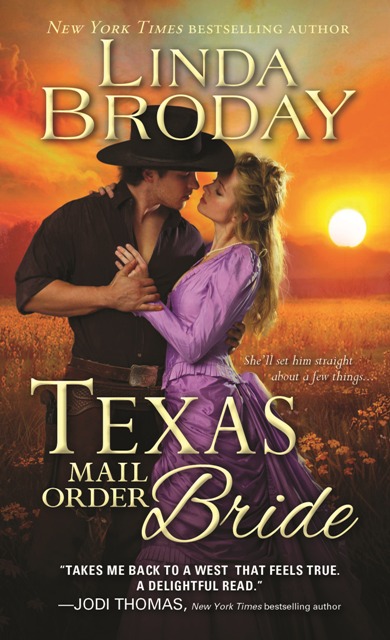 BOOK ONE of BACHELORS OF BATTLE CREEK!
TEXAS MAIL ORDER BRIDE  January 2015

Rancher Cooper Thorne thinks his life is finally on an even keel—until Delta Dandridge steps off the stagecoach claiming to be his mail order bride.
Brash and quick-witted, the meddling Southern Belle is everything Cooper thought he never wanted…and everything his heart is telling him he needs.
But Cooper swore long ago that he'd never marry, and he aims to keep his word…especially now that the demons from his past have returned to threaten everything—and everyone—he holds dear.