No place was lonelier for settlers during Christmas than the frontier. They were far from home and family. Everything they knew they left back East. The wind howled, temperatures were freezing, and they were hard put just to stay alive. The days were long and filled with hard work. There was little enjoyment to be had.
Christmas was the worst time for depression to set in. They missed their loved ones back East and friends they'd left. The smart ones threw themselves into work to keep their minds occupied.
There were certainly few trees in the plains and northern Texas so they had to make do with whatever they could find.
Some mothers were so desperate for Christmas cheer they got a tumbleweed (which were very plentiful) and decorated it in brightly colored paper, ribbons, and whatever else they could find. Candles were not allowed near due to the combustible nature of the dry bush.
Others chopped down other trees like scrub oak, juniper, or blackjack and used those. These settlers were very resourceful. To make it appear it had snowed on the tree, they wrapped the limbs and twigs with cotton. Other decorations were popcorn and cranberries they strung on twine and strings of paper hearts.
The children could also use the foil that separated layers of cigars and make icicles to hang on the tree. That is if their fathers smoked cigars and they could persuade him to save them. I'm sure there were many other things they made decorations out of. Possibilities were endless, including bird nests, colorful ribbon and empty spools of thread strung together.
School age children usually had a Christmas program of some kind and they got a chance to sing or perform in a play. Those were fun occasions.
Food was an important part of the Christmas celebration and sugar was saved for months so there would be enough for the cakes and pies. Oranges were a real treat and kids only got one if any at the holiday.
Fathers and teenage sons usually went hunting for a turkey, a duck, or whatever game they ran across.
Gifts were homemade unless the family was very wealthy. Fathers carved toys, mothers made dolls and knitted scarves, hats, and gloves. Everything was simple with the emphasis on the celebration of the birth of Jesus. Personally, I wish we could go back to these days without all the commercialization.
Tell me about a Christmas of yours that stands out and what made it really special.
Mine was the year my dad suffered third degree burns over much of his body in an explosion at his job on a construction site. He was in the hospital for months and we didn't know when he'd get out. Back then, kids weren't allowed beyond the waiting room so Jan and I couldn't see him. My mom usually sat with him at night and our older sister came and stayed with us while she was gone, so our door would be locked. I was so afraid Santa couldn't get in and we wouldn't get any presents. My older sister told me he could come through the keyhole and not to worry about that. The next morning, sure enough, we had gifts even though we had no tree. And Mama had brought Daddy home from the hospital. That was the best Christmas I can remember because we were all together again.
Growing up, we never had a tree except for one year–the year my brother came home on leave from the Army. I was fifteen and I remember how excited I was to have him home and to have a tree like everybody else.
Here's a picture of me taken on Christmas morning, skinned knee and all. I must've been eight or nine.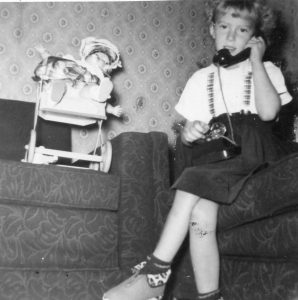 Wishing you all a Merry Christmas!